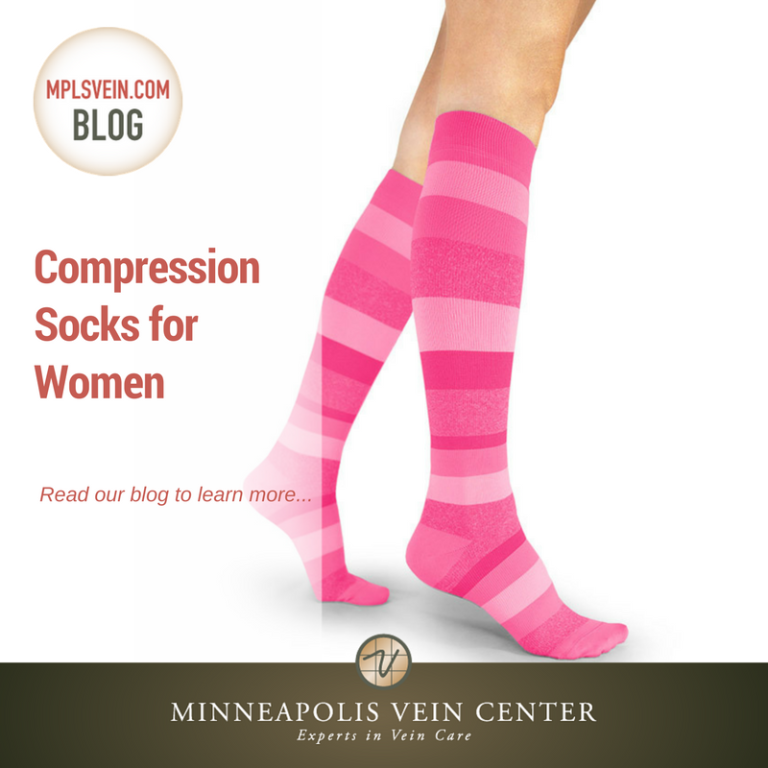 At Minneapolis Vein Center, we carry a wide variety of compression socks for women—and they don't look like something your grandmother would wear. Our compression socks for women look just like regular socks, while providing all the benefits of compression socks.
About Compression Socks for Women
Compression socks promote normal blood flow throughout the leg by providing tight compression around the foot and ankle that decreases up toward the calf. There are many different types of compression socks; compression socks for women are available in many different styles, colors, and levels of pressure. It's important to get the right level of pressure for your unique needs—pressure that is too light may not provide any benefit, and pressure that is too strong may cause serious complications.
Why Wear Compression Socks
Two common reasons to wear compression stockings:
As part of a conservative vein therapy program – Most insurance companies require a round of conservative vein therapy before other vein treatments will be covered.
After a vein treatment procedure – Compression socks help to relieve pressure on the veins, prevent blood clots, and reduce recovery time.
Fitting Compression Socks for Women
Compression stockings are readily available both in physician offices and over-the-counter. However, proper fit is essential to the therapeutic effect of compression socks. The certified vein specialists at Minneapolis Vein Center can provide the precise size and degree of compression that is best for your specific needs.
Compression Socks for Women in Minneapolis
Let our experts help you choose the right compression socks and share tips and tricks for getting them on the right way, every day. Conveniently located at the intersection between highway 494 and highway 55, Minneapolis Vein Center is easily accessible for women throughout the Minneapolis metro area. For the best compression socks for women, call Minneapolis Vein Center at 763-398-8710.